Description
AAMI Generic 6 Pin IBP Adapter Cable Utah
NAME:
AAMI Generic 6 Pin IBP Adapter Cable Utah A1902-BC01
P/N:
CK-21-014 CK-X2021-UT,Utah
PICTURE FOR CONNECTOR: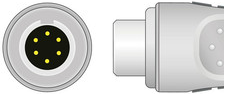 This is AAMI Generic 6 Pin IBP Adapter Cable
Compatible for BCI 9100 Series and 9200 Advisor Series; Critikon; Digicare; Dixtal DX-2020, DX-2021, and DX-2023; Genera 710C; Hewlett Packard 5microvolt, (Option 002) 8805, 78205; Invivo Corporation/Medical Data Electronics (NDE), Inc. TVS Omnitrak,Omnitrak 4000, Millenia, Model 3550 Escort M12, Escort 100 – 200 – and 300 Series, MDE, Series 3100 – 3500; Ivy Biomedical 700, 400 Series; Medical Research Laboratories – Welch Allyn Portable Invasive Care (PIC); Mindray / Datascope Passport; Mennen;Nellcor Escort; Omni-Trak 4000; PaceTech VitalMax 4000 Modular; Physio-Control Lifepak 12; Smiths Medical; Spacelabs 300, 400, 500, 600, Alpha 7, Alpha PC, 90308, 90311, 90331, 90402, 90403, 90470, 90496*, 90603A, 91496*, PC Express, 700 Surgical Series, MOD-CD, Tel/Vitatek, ScoutTPC *90496 and 91496 require Spacelabs 700-0028-00 rectangular jumper cable; Tecktronix 400 Series; Vitalert 2000; Viatek; Welch Allyn Propaq 102, 104, 106 Acuity, 106EL, Encore; Zoll Defibrillators.
FEATURES:
1.Brand new, great ratio,good looking
2.Materials of connector and cable comply with UL and Rohs standard
3.AHA and IEC color code are available
4.Quality 100% assured,accurate measurement and fast response
5.Top quality,non-toxic,anti-interference,soft and durable PU material cable
6.One-piece ECG cable and detachable ECG cable with leads are available
7.Superior flexibility and durability,Aluminum foils shielding
8.Technology process: cutting,welding,molding,assembly and testing
9.Easy to clean and repair
10.OEM/ODM available,customizable and drawings are accepted
WARRANTY:
One years  after receiving item.
SHIPMENT:
1.Usually we ship the item within 3-5 working days after payment done
2.Economy Int'l shipping means by China Post or HK post (20-50 working days)
3.Standard Int'l shipping means by DHL or Fedex (3-5 working days)
RETURN POLICY:
We accept all return/refund for defective item within 7 days after you received
Return item MUST be in new condition, original packing,NO missing any parts
Buyer is responsible for returning shipping charge
We do not accept item external damage for negligence
PAYMENT:
We accept orders payment by TT or Western Union
CONTACT US:
If you are not sure whether cable matches with your patient monitor machine or not, or you are looking for
other cables, please contact us by email.
Address: Fl4,BldA2,Xiangdali Industrial Zone,Henggang,Longgang,Shenzhen, China
TEL: 86-0755-86159509
Email: info@cktronics.com